Autour de Noël Lee, June 15
---
Schütz recording with Sagittarius
I am very excited to take part in this recording in May 2016 with French Ensemble Sagittarius conducted by Michel Laplénie.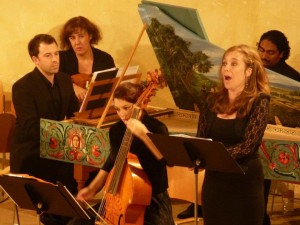 ---
Recital in Bulgaria with Anna Christensson
In April, pianist Anna Christensson and I will be performing a programme of Swedish contemporary music at the ppIANISSIMO festival at the Bulgarian National Radio in Sofia, Bulgaria with music by Hilding Rosenberg, Gösta Nystroem, Maurice Karkoff, Arne Mellnäs & Stig Gustav Schönberg – parts of the performance will be broadcasted on the Bulgarian Radio – more details t b a.
---
Les Grandes Nuits broadcasted on Sveriges Radio P2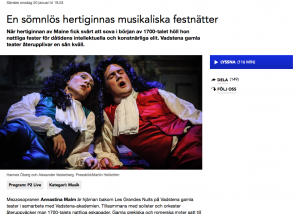 A live recording of Les Grandes Nuits will be broadcasted on Swedish Radio P2 on January 20 at 19h03.
To listen, please follow the link below:
http://sverigesradio.se/sida/avsnitt/667453?programid=4427
---
Kulturnytt om Boris Christ
---
Production photos Boris Christ
---
Boris Christ on tour in Norrland
I will sing the part of Yvette in this audiovisual opera by Marcus Fjellström and Daniel Pedersen, on tour in Norrland with Piteå kammaropera.
Premiere Oct 18.
---