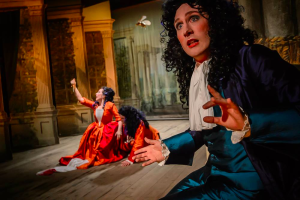 A production inspired by the French Duchess of Maine's nightly divertissements in the 1700s. She suffered from insomnia and therefore forced her court to entertain her through the nights with music, dance, pantomimes and plays. Music by Bernier, Montéclair, Clérambault and Mouret. Performed in French, Italian and Swedish.
Premiered at at the Old Theatre in Vadstena on 8 July 2015.
Broadcasted on Sveriges Radio P2 live on January 20th 2016
http://sverigesradio.se/sida/avsnitt/667453?programid=4427
PERFORMERS
Duchesse du Maine: Annastina Malm
Duc du Maine: Alexander Vesterberg
Nicolas de Malézieu: Hannes Öberg
Kristine West, flute
Stina Jansson, violin I
Maria Wernberg, violin II
Stina Petersson, cello
Andreas Edlund, harpsichord
CREATIVE TEAM
Staging & concept: Annastina Malm
Conductor: Andreas Edlund
Choreography: Karin Modigh
Scenography & costumes: Johan Glaumann
Make-up & Wigs: Anne-Charlotte Reinhold
Lighting design: Jimmy Ström
Producer: Terese Lindström, Vadstena-Akademien
The project has received generous support from Kungliga Musikaliska Akademien, Helge Ax:son Johnsons stiftelse and Sonia and Gustav Forssius stiftelse.
REVIEWS
"Förföriskt lekfullt för sömnlösa nätter" – Aftonbladet
"Njut i Akademiens tidsmaskin" – Corren
"Ett förtjusande divertissemang" – Skånska Dagbladet
"Färgstarkt av Vadstena-Akademien" – MVT